Let's face it, it's hardly ice cream weather outside. But that hasn't stopped Brits digging into the stuff. A new hero has emerged to stop the ice cream category falling into the doldrums as soon as temperatures plummet: low calorie. Promising all the sweetness without the guilt, it is hoping to become a year-round treat rather than a summer-dependent indulgence.
Healthy ice cream Oppo, which has as little as 37 calories per scoop, has even seen sales increase over the winter.
"We've had more revenue in the ten weeks leading up to March then we did for the entire of 2017, despite the cold weather,"        says brand manager Kitty Walker.
And the brand has plans to double its workforce over the next couple of months to "gear us up for the continued growth of health as a sub-category within ice cream". So can low calorie options bring some healthy year-round growth to the ice cream sector?
It's been hard to miss the number of launches targeting the health-conscious consumer over the past few months. In August, Netherlands high-protein ice cream brand Koupe launched into the UK. Ben and Jerry's is launching its own 'light' ice cream – branded Moo-phoria – and start-up low calorie brand Perfect World hit its £100k crowdfunding target in just over a week.
Video: The low calorie ice cream guide
And of course, Halo Top launched in the UK in January. If sales in the US are anything to go by – it has captured an impressive 5% of US ice cream sales in the two years since its launch –  it could take a healthy scoop of the domestic market. The brand's profile skyrocketed on the back of an article in the US GQ magazine back in January 2016, in which a journalist reported losing 10lbs of weight loss after eating nothing but "this magical, healthy ice cream" for ten days. The buzz has continued since and two months after its UK debut, tubs of Halo Top are still regularly sold out at Tesco.
Kantar Worldpanel analyst Isabel Zakers says the UK market could benefit from a low calorie boost. "Being increasingly chosen as a healthy option is boosting ice cream's growth in the declining desserts market, and could potentially drive further spend."
Zakers believes added benefits such as these have helped drive up average prices up by 5.9% to £2.71 per litre [Kantar Worldpanel, w/e 5 Nov 17]. "Ice creams are fulfilling more needs in order to justify this higher price point to consumers, particularly healthy options."
"People are beginning to see – and to demand – that it can be done differently. By using new ingredients and sugar substitutes we are now making the same indulgences a lot healthier."
This was the idea behind Koupe, which is priced at £5.49 per 500ml on Ocado. Founder Jaco Pieper believes brands such as his – which claims to have 'less sugar than a fresh apple, more protein than three egg whites and more fibre than a serving of broccoli' – will appeal particularly to the younger generation. "Young people are getting more and more educated about food and the contents of the packet," says Pieper.
The data backs up his point. A whopping 44% of 25- to 34-year-olds would be willing to pay more for a low calorie ice cream, found a poll of 1,971 consumers conducted by Harris Interactive on behalf of The Grocer. This compared to just 23% of over 55s.
On a less positive point, younger shoppers are also more likely to binge on the stuff. Seven in 10 of the 18 to 24-year-olds polled admitted they would eat an entire tub of ice cream if it contained fewer than 250 calories, compared to 49% of the overall sample. It backs up the criticism levelled at these brands – that their lower-calorie status could encourage consumers to guzzle them by the gallon. Halo Top seems to even encourage eating a tub in one sitting, with seals trotting out lines like 'Stop when you hit the bottom' and 'No bowl, no regrets'. Suddenly healthy doesn't look so virtuous.
There is another caveat to this low calorie boom: flavour remains king. However many health claims you pack into a product, shoppers simply won't buy it if it doesn't taste good. In the Harris Interactive survey, just 13% of consumers cited calories as one of their top three factors in choosing an ice cream, while 79% selected flavour and 67% price.
Even among the more health-conscious 18- to 24-year-old age group, only 22% selected calories as a top factor.
So although low-calorie brands may have been applauded for their flavour – Halo Top in particular has gained a vocal social media following – but they're not just competing with other healthy brands. They also have to hold their own against their full-fat counterparts in the tastebuds test.
That's why brands such as Häagen-Dazs and Magnum have decided to do healthy through portion sizes rather than reformulation. Per 100g, their calorie content is more of the 'look away and pretend you didn't see it' variety. But smaller formats aim to make these rich ice creams less of a guilty pleasure.
"Consumers arelooking for morepermissible indulgence,"                        says Richard Williams,
marketing director for General Mills Europe, owner of the Häagen-Dazs brand. "We launched Häagen-Dazs mini cups last month to tap that trend. It's all about making our ice cream accessible and fitting it into people's lives, as consumers aren't just looking for a big tub every time now."
Williams maintains that smaller portions rather than fewer calories is the way to capture more shoppers, as the former allows "people want to indulge properly and still get a great experience".
Magnum is thinking along similar lines. "We've found formats we've launched in the past like Magnum Mini encourage customers to eat them all year round," says Noel Clarke, vice president for refreshment at parent company Unilever.
Harris Interactive's head of research Lucia Juliano believes low calorie won't be a miracle-worker for the ice cream category. "For many, ice cream is perceived as a treat and calories are somewhat irrelevant," she says.
Juliano believes there are ways outside low cal formulations to make ice cream more of an all year round treat. She points out handheld ice creams could be the next opportunity. Currently, the format is heavily associated with on the go and hot weather; though 50% of consumers state they typically eat handheld ice cream when out and about and just 13% eat them at the dinner table.
"If handheld ice cream brands can make themselves readily available and accessible, consumers who eat ice cream out and about may be encouraged to buy not just on a hot day but at other occasions too," says Juliano.
So, how can handheld brands re-establish themselves as more than just a treat for a sunny day? We asked creative agency LIFE to come up with the answer with a range of handheld ice creams that target a brand new eating occasion for the category. Here's what they came up with.
Creative Challenge: breakfast ice cream
Nearly eight in 10 ice cream occasions are in the evening, and just 0.3% in the morning [Kantar Worldpanel 52 w/e 8 October 2017]. So tapping the breakfast market is a potentially huge growth opportunity for the category, creating a brand new reason to purchase ice cream. Poised to capitalise on this new market and simultaneously revive the handheld format is Akutak, a range of Alaskan breakfast ice creams created by LIFE.
"Akutak is a real ice cream used in Alaska to fuel people throughout the day,"        says senior creative Jenny Matthews.
"It typically includes meat, a range of fats and other nutritional ingredients that aren't to British consumer tastes, so we adapted the idea to create two flavours that tap current breakfast trends while still providing energy."
The sandwich format ice creams contain a mix of good fats and nutrient-rich ingredients, and are packed with plant-based protein "designed to fuel a good day". Wild Avo Crunch, marketed as providing 'the strength of 10 bears', contains avocado, almonds, pistachios, seeds and chilli, sandwiched between a cashew and cacao raw pressed protein crust. The second variant, Wild Goji Berry, includes goji berries, Alaskan honey, roots and seeds, capped with a coconut and cherry raw pressed protein waffle crust to give consumers 'the focus of an eagle'.

"We wanted a product that is easily eaten on the go, and that suited both office workers and physical workers, which is why we decided to have one product for those wanting fuel and power, and another for focus and concentration," says Matthew.
Aligning the range with Alaska, one of the harshest environments in the world, would likely attract more of a male customer base, says Matthew.The ice cream could particularly appeal to manual workers who "can perhaps relate more to the physical toll of working in difficult conditions. If Akutak can power an Alaskan through a 10-hour day in the freezing cold, physical workers will believe it can fuel them for whatever their day brings."
At an rsp of £2.50, LIFE hopes Akutak could challenge shoppers to deviate from their usual coffee on the go to try a breakfast product that provides energy as well as great flavour. Available in grocers, convenience stores and forecourts, the range would be positioned in food-to-go aisles or next to Costa coffee machines to encourage customers to opt for an energy boost over a caffeine hit.
"In terms of marketing, there are great opportunities to inject some humour with short videos on social media showing what consumers can achieve once they've been fuelled by an Akutak breakfast," says Matthews. "We could launch the range with a twist on the ice cream van, delivering samples to highly populated areas during the morning rush hour, major building sites and offices."
With increasing numbers of Brits looking for a quick and easy breakfast they can grab on the way to work, Akutak could just be the innovation the category needs to break into the currently untapped morning meal market, providing consumers with a new and permissible reason to eat ice cream.

Even if the UK isn't quite ready for Alaskan breakfast ice cream yet, ice cream brands are bringing out plenty of innovation in plenty of time for the upcoming summer months. Here are some of the latest products to hit retail freezers.
The ice cream innovators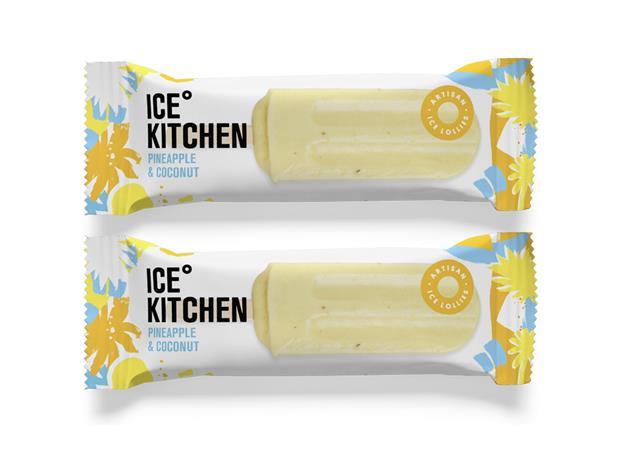 Ice Kitchen pineapple & coconut ice lolly
Made by hand-blending whole pineapple chunks with fresh coconut milk and a dash of freshly squeezed lemon juice, Ice Kitchen will be launching its latest artisan flavour in March (rsp: £2.00/75g). The lollies are vegan, gluten-free, and contain just 112 calories.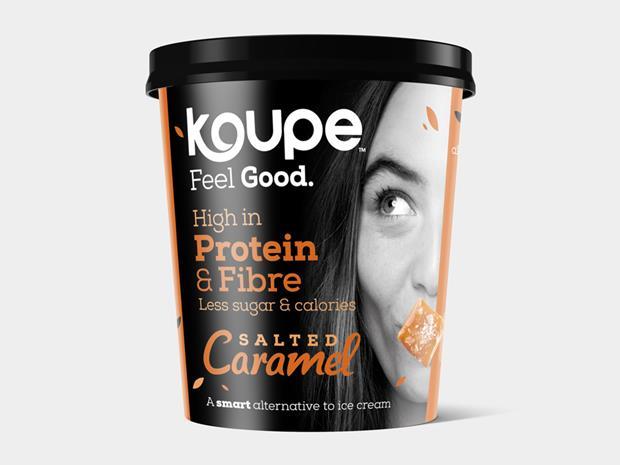 Koupe Salted Caramel
Koupe will be expanding its range of high protein, low calorie ice cream alternatives this April with trending flavour salted caramel (rsp: £5.49/500ml). The brand promises that each serving of Koupe ice cream contains "less sugar than a fresh apple, more protein than three egg whites and more fibre than a serving of broccoli".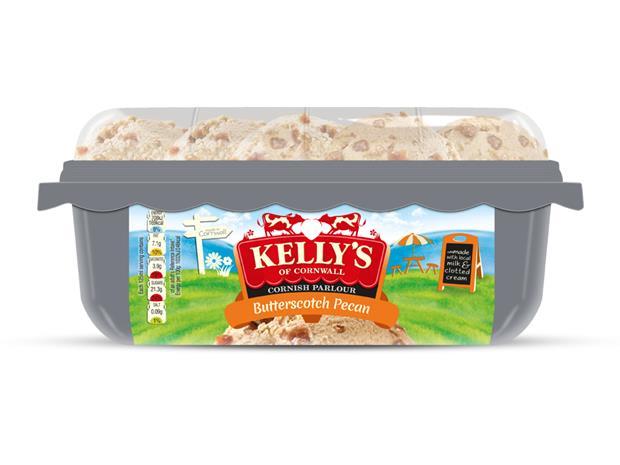 Kelly's Butterscotch Pecan
An established favourite in Kelly's ice cream parlours across the UK, Kelly's Clotted Cream and Butterscotch Pecan flavour will be available in retail stores from March (rsp: £3.99/950ml). Made in Cornwall with local whole milk and clotted cream, the ice cream gets its rich flavour from a burnt butter caramel sauce, swirled among crunchy praline pecans and brittle butterscotch pieces.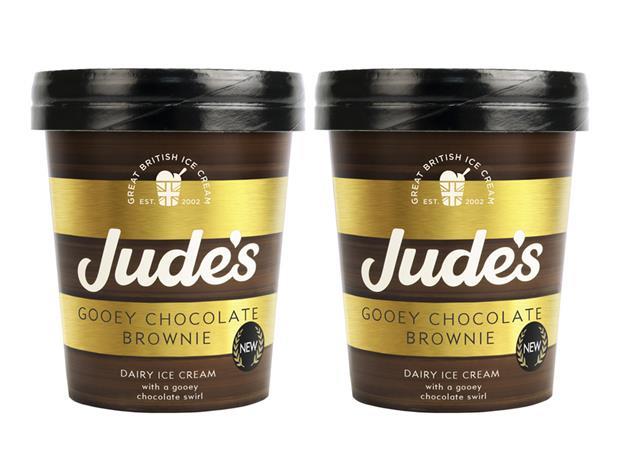 Jude's Gooey Chocolate Brownie
Hampshire-based ice cream brand Jude's newest addition hits Sainsbury's shelves in March. Gooey Chocolate Brownie (rsp: £3.95/pint) is made with pure Colombian Cacao, a  chocolate swirl and soft brownie pieces, and joins Sticky Toffee Pudding and Clotted Cream in Jude's Great British Ice Cream range, inspired by the nation's favourite puddings.
Currently, the format is heavily associated with on the go and hot weather; though 50% of consumers state they typically eat handheld ice cream when out and about and just 13% eat them at the dinner table.
---
source : www.thegrocer.co.uk